Hefner's Preface: A detailed analysis of Robert Louis Stevenson's
The Strange Case of Dr. Jekyll & Mr. Hyde
is long overdue for this fanblog. When it comes to exploring the fundamental ideas of what Two-Face represents, an acedemic exploration of Stevenson's book viewed through a comics filter seems like a no-brainer, something which I should have done from the start.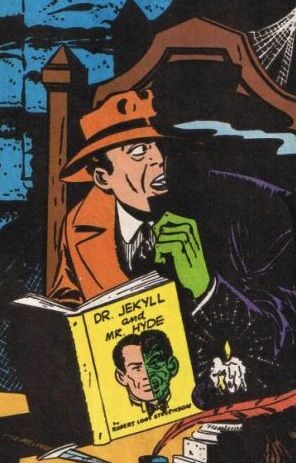 But embarrassed as I am to admit this, I've just never felt up to the task of delving into that book with the attention it deserves, much less measuring how its ideas and title character(s) compares and contrasts with Two-Face. I read the book for the first and only time a few years ago, and at the time, there didn't seem to be anything I could say about it in regards to Harvey. I mean to reread it, but by this point, it's an intimidating prospect.
Besides, it's not enough to simply review the book itself, considering that
there are over a hundred adaptations in film alone
, most of which take liberties with the source material to explore Jekyll and Hyde through all manner of different social and cultural contexts! God, I'd love to review
the Spencer Tracy version
alone, but I know that's a controversial version, so I'd definitely have to see the Fredich March version, and before too long, I'd feel obligated to review everything from
Dr. Jekyll and Sister Hyde
to
League of Extraordinary Gentlemen!
*
But of all the adaptations, one version stands out: the
Classics Illustrated
version from the title's brief revival in 1990. This version was adapted and illustrated by John K. Snyder III, an artist who has never quite gotten the due he deserves. Coming from the same late-80's school of comics art as Matt Wagner, Mark Badger, Bill Sienkiewicz, Tim Sale, and Kyle Baker (seriously, did these guys all go to the same club or something?), JKS3 is a long-time great of comics who has never achieved the fame of his peers, which is a damn shame. Considering that I just wrapped up my review of Wagner's
Faces
, it's only fitting that we look at an actual
Jekyll
adaptation by one of Wagner's peers (
and collaborators
)!
Thankfully, our own intrepid Ed Saul, AKA
the Gentleman Mummy
, has graciously offered up his services to review JKS3's adaptation of TSCoDJ&MH himself! My gratitude is outmatched only by my excitement to read this examination of Stevenson's book as depicted by Snyder, especially since Ed is someone who definitely knows and appreciates what makes Harvey a great character. Take it away, Mr. Saul!
---
The Strange Case of Dr. Jekyll and Mr. Hyde
.
Webster's Dictionary defines it as "For the love of God, stop calling us! Does a restraining order mean nothing in this day and age?!", and it's not wrong - but such an oblique clarification fails to capture the vast meaning and theme encompassed by R. L. Stevenson's great horror classic. Forward, then, the "Classics Illustrated" edition, published by those sons of fun, First Comics and the Berkeley Comics Publishing group, and adapted by John K Snyder III - he of
Grendel, Suicide Squad
and a short-lived
Doctor Mid-Nite
series (thank you so much Wikipedia).
Stevenson's book - first published in 1886 - still fascinates scholars today because of the numerous interpretations one can make of it - the blindingly obvious upper class vs lower class, cities vs countryside, Darwinism vs Creationism, the Mind vs the Body, heterosexuality (and chastity) vs homosexuality (and promiscuity). According to one professor I've met, Hyde is obviously a metaphor for repressed homoeroticism due to his tendency to enter Jekyll's house "by the back door". Mind you, he was very nervous when he said this, so I didn't take him too seriously.
According to most accounts, Stevenson dreamt up Hyde as 'a fine bogey' while having a feverish nightmare. Why is it, I ask you, that the most well-known horror writers come up with their great works purely by chance? Mary Wollstonecraft Shelley, Bram Stoker, Edgar Allan Poe - even *shudder* Stephenie Meyer returns to the well of "I Had A Bad Dream This One Time". Bloody infuriating. The rest of us have to actually
think up stuff
.
Snyder, on the other hand, got the job on the back of First and Berkely acquiring the rights to the popularly vast comic book series "Classics Illustrated" and deciding to reboot it with an array of fresh new talent. The "Berkeley-First" series stuck to the originals' tendency to feature glossy, painted covers - notable exceptions being Gahan Wilson's adaptation of Poe's
The Raven
, P. Craig Russell's masterful version of that author's
The Fall of the House of Usher
, and this very volume.**
(Seriously, look at that cackling Maddie Usher. Brrr...)
Already we perceive in Snyder's cover a visual similarity between Stevenson's 'bogey' and our beloved Harvey - though, incidentally, he also shares more than a few similarities with Stevenson's other famous villain, Long John Silver - from the crippling mutilation to the wild mood swings to the shaky allegiances. Writers, take note: this is another good reason to revisit the possibility of Pirate Two-Face. Apart from, y'know, PIRATE. TWO-FACE. But you can also see how Snyder hints at the concept of Hyde representing the darker and less pleasant aspects of London itself, his twisted black locks and their streaks of yellow and blue blending in with the cityscape above.

And then there's the title page.

( Read more... )